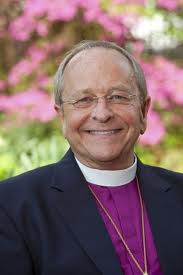 If readers of this blog series of biographical snippets of the iconic pilgrims who led the journey toward full inclusion know only one name, it would undoubtedly be Bishop Gene Robinson, consecrated as the bishop of the New Hampshire Episcopal Diocese in 2003. For this brief taste of the Gene Robinson story, we will sample the spicy few days in Minneapolis when bishop-elect Robinson's fate was on the plate-then off-then on again.
As with several other significant waypoints along the journey, the 2003 General Convention that approved his election occurred on the banks of the Mississippi River in the Land of Ten Thousand Lakes. It was in Minnesota that the Episcopalians convened in 1976 and revised canon law to allow women to be ordained to all levels of ministry; it was here that Christian feminists gathered for a Re-Imaging Conference in 1993 that rattled the mainline denominations; it was here that the Lutherans convened for their 2009 Church Wide Assembly and revised ministry policies to allow partnered gays and lesbians to be ordained; and it was here that the Presbyterians voted in General Assembly 2010 to do the same. There were numerous lesser signposts staked in Minnesota as well, and this was the homeland of more than a few pilgrims encountered in the book. There must be something in the Minnesota water.
Episcopalians elect their own bishops in diocesan conventions. However, the elections must be ratified by the national church, which is usually nothing more than a rubber-stamp approval. Because the New Hampshire Diocese elected Gene Robinson just a short time before the scheduled triennial General Convention, it would be the bishops and deputies who would gather in Minneapolis in the summer of 2003 who would have the last word. July in Minnesota is splendid, and the freezing blizzards of January are merely a test of character for the thousands of Minnesotans whose reward is to wet a fish line or take a dip in the sky-blue waters of midsummer. Yah, sure, you betcha.
Gene Robinson was a candidate running for office with a well-oiled campaign. His supporters roamed the hallways sporting buttons that said "Ask Me About Gene." Robinson himself wore one that said, "I AM Gene" as he chatted and greeted all comers with a friendly grin and firm handshake. Partner Mark followed closely, appearing a bit self-conscious, and a burly security man with a crew cut kept a close watch.
A standing-room only audience followed Robinson's speech before a committee considering the consecration of bishops. Many more clustered around the closed-circuit TV monitors in adjacent rooms. Part of Robinson's task, now and continuing throughout the convention, would be a rebuttal of lies put out by his adversaries. He had not abandoned his wife and children, and they said so in highly supportive terms (his relationship with Mark Andrews began a couple of years after the divorce). Robinson's twenty-one year old daughter appeared in person and read aloud a statement prepared by her mother, which demonstrated her continuing high regard for the man who had once been her husband.
Our lives together both married and divorced have been examples of how to deal with difficult decisions with grace, love, integrity, and honour. He is worthy of your affirmation. His charisma will draw in many more people to the church than will leave due to his sexuality. He will be a truly great bishop.
The House of Deputies voted first, and Robinson was easily approved by roughly a two to one majority.
Before the House of Bishops' vote the following day, which was likely to be dicey anyway, the scent of scandal wafted out of the opponent's headquarters with an allegation that placed Robinson's ordination in serious jeopardy. A different allegation that arrived by email had to be dealt with first.
The first allegation developed from an email sent by a TV viewer back in New England who had been watching a news report of the proceedings. A man claimed he had been touched inappropriately by Bishop-elect Robinson at a regional church gathering years earlier. Even the normally reliable Episcopal News Service was swept up in the emotion of the moment, falsely reporting that "a Vermont man sent an e-mail to bishops accusing Robinson of fondling him" (emphasis added). The unfortunate word choice was a sensationalist misstatement–the email made no such claim, and the man quickly backed off when he was contacted by the bishop assigned to investigate. The alleged "touching" of years earlier turned out to be entirely innocuous. In a crowded conference room, Robinson had passed the man and stopped briefly to exchange a greeting. In doing so, Robinson had grasped the man's upper arm and patted him on the back.
Shocking. Objection overruled.
The second allegation was even more titillating. Robinson was connected to pornographic websites, according to a "portly, red-faced pseudo journalist addicted to conspiracy theories and running his own raucously partisan conservative website." During his fifteen minutes of fame, the man strutted around the convention media center, gleefully sputtering, "I have found the smoking gun. We got him!" The accuser's last name was Virtue. You can't make this stuff up.
Mr. David Virtue was part of the gatekeeping organization, the American Anglican Council (AAC). It had been the AAC chairman who first alerted church authorities to the allegations of Mr. Virtue. "I think the bishops in considering his worthiness would want to weigh that," the chairman said as he bounced around the convention press center, hoping that substance would back up the flimsy allegation, even while sanctimoniously claiming otherwise.
Supporters were stunned. Bishop Samuel G. Candler of the Diocese of Atlanta had spoken passionately on behalf of Rev. Robinson, but he admitted that he was shaken by the allegation.
Detractors smugly asserted, "we told you so." Rev. Donald Armstrong of Colorado Springs, an opponent of Robinson, claimed that the allegation about pornography was entirely predictable because of Robinson's disordered sexuality, and he suggested that Robinson ought to withdraw his candidacy.
The investigation into the pornographic website complaint revealed no connection to Robinson whatsoever. It was a "six degrees of separation" claim run amok. The questionable link had been placed on an organization's website long after Robinson was no longer involved with the organization. The guilt-by-association smear tactic of unvirtuous Mr. Virtue failed. The investigator reported to his fellow bishops that there was "no necessity to pursue" either complaint further. Objection overruled.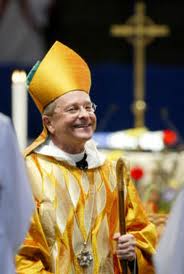 When the Bishops finally conducted their own vote a day late, Robinson's ordination to the episcopate was approved by nearly sixty per cent. Perhaps a vote or two swung in favor of Bishop-elect Robinson due to the underhanded tactics of the gatekeepers. Robinson was consecrated as New Hampshire bishop later that fall, but that festive event is another story.
The book is now available!
Print copies are available from Amazon, the publisher, Barnes and Noble, Cokesbury, or an autographed copy straight from me. Amazon offers it in digital, eBook format for Kindle, and Barnes and Noble offers it for Nook. For iPad or other Apple users, you may order through the iTunes bookstore. Search on RW Holmen.
This is the latest installment in the series Cast of characters countdown, which are biographical snippets and summaries of the stories of the iconic pilgrims and prophets on the road to full inclusion who are featured prominently in Queer Clergy. As with all these posts, this is merely a summary of the full story, which is woven into an overarching narrative in the book.
Here's the list of prior posts:
1968 Troy Perry (founder of the MCC)
1970 Robert Mary Clement (gay priest who marched in the first Gay Pride parade)
1972 William Johnson (first out gay man to be ordained by a traditional denomination)
1974 James Siefkes (Lutheran pastor behind the formation of Lutherans Concerned)
1974 David Bailey Sindt (founder of More Light Presbyterians)
1975 Steve Webster (organized the first gathering of gay Methodists)
1975 Dr. Louie Clay (founder of Episcopal Integrity)
1976 Chris Glaser (longtime Presbyterian activist)
1977 Ellen Marie Barrett (first out lesbian ordained to the Episcopal priesthood)
1978 Loey Powell (early UCC lesbian pastor and activist)
1980 Mark Bowman (founder and leader of RMN and editor of Open Hands Magazine)
1982 Melvin Wheatley (Methodist bishop and straight ally)
1987 Ann B. Day (Led the UCC ONA for twenty years)
1990 Jeff Johnson, Ruth Frost, Phyllis Zillhart (Extraordinarily ordained Lutherans)
1990 John Shelby Spong (leading straight ally in the Episcopal House of Bishops)
1992 Janie Spahr (Presbyterian leader of "That All May Freely Serve")
1994 Ross Merkel (defrocked Lutheran allowed to remain on call with a "wink-and-a-nod" from his bishop)
1996 Walter Righter (Episcopal Bishop whose heresy trial opened the door for queer clergy)
2000 Jimmy Creech, Greg Dell, Joseph Sprague, and Jack Tuell (Methodist trials to punish clergy who performed covenant services for same-gender couples)
2001 Anita Hill (extraordinarily ordained Lutheran)