Months BEFORE Stonewall, outed Pentecostal pastor Troy Perry invited the gay community of Los Angeles to a worship service, and the Metropolitan Community Church (MCC) was born. This is a brief account of his story.
Troy Perry was born to a family of bootleggers in the Florida panhandle, and he exhibited a youthful bent toward preaching. Perry became a Baptist preacher at age 15, married a preacher's daughter at age 19 with whom he fathered two children, and was assigned as pastor to a Pentecostal Church in Santa Ana, California at age 22. Six years later he attempted suicide after he had been defrocked and divorced, and then life got interesting.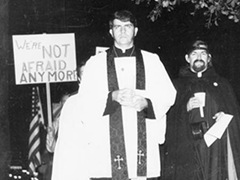 In October 1968, 8 months before the Stonewall riots of Greenwich Village marked the birth of the gay liberation movement, Perry held a worship service in his Los Angeles home for members of his gay community. Twelve persons dared to show up. They sang. They read Scripture. They prayed. Perry preached. They shed tears as they shared bread and wine.
That was the first worship service of what became the Metropolitan Community Church (MCC) movement with hundreds of predominantly gay congregations popping up around the country and around the world in what would become the first welcoming church for gays and lesbians at a time that the rest of Christendom, including the mainline, Protestant denominations, remained hostile.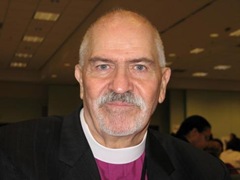 In the early years, the MCC survived several arsonist fires, including a horrendous tragedy in New Orleans that claimed the lives of 32 persons. By the time of Perry's retirement in 2005, the MCC had grown to over 250 congregations in 26 countries with 43,000 members.
Of course, the book goes into greater detail.
Where to buy the book
Print copies are available from Amazon, the publisher, Barnes and Noble, Cokesbury, or an autographed copy straight from me. Amazon offers it in digital, eBook format for Kindle, and Barnes and Noble offers it for Nook. For iPad or other Apple users, you may order through the iTunes bookstore. Search on RW Holmen.
This post is part of the series Cast of characters, which are biographical snippets and summaries of the stories of the iconic pilgrims and prophets on the road to full inclusion who are featured prominently in Queer Clergy. As with all these posts, this is merely a summary of the full story, which is woven into an overarching narrative in the book. Here's the full list of these posts:
1968 Troy Perry (founder of the MCC)
1970 Robert Mary Clement (gay priest who marched in the first Gay Pride parade)
1972 William Johnson (first out gay man to be ordained by a traditional denomination)
1974 James Siefkes (Lutheran pastor behind the formation of Lutherans Concerned)
1974 David Bailey Sindt (founder of More Light Presbyterians)
1975 Steve Webster (organized the first gathering of gay Methodists)
1975 Dr. Louie Clay (founder of Episcopal Integrity)
1976 Chris Glaser (longtime Presbyterian activist)
1977 Ellen Marie Barrett (first out lesbian ordained to the Episcopal priesthood)
1978 Loey Powell (early UCC lesbian pastor and activist)
1980 Mark Bowman (founder and leader of RMN and editor of Open Hands Magazine)
1982 Melvin Wheatley (Methodist bishop and straight ally)
1987 Ann B. Day (Led the UCC ONA for twenty years)
1990 Jeff Johnson, Ruth Frost, Phyllis Zillhart (Extraordinarily ordained Lutherans)
1990 John Shelby Spong (leading straight ally in the Episcopal House of Bishops)
1992 Janie Spahr (Presbyterian leader of "That All May Freely Serve")
1994 Ross Merkel (defrocked Lutheran allowed to remain on call with a "wink-and-a-nod" from his bishop)
1996 Walter Righter (Episcopal Bishop whose heresy trial opened the door for queer clergy)
2000 Jimmy Creech, Greg Dell, Joseph Sprague, and Jack Tuell (Methodist trials to punish clergy who performed covenant services for same-gender couples)
2001 Anita Hill (extraordinarily ordained Lutheran)
2003 Gene Robinson (gay bishop of the Episcopal Diocese of New Hampshire)
2004 Karen Dammann and Beth Stroud (Methodist clergy put on trial for being lesbians)
2007 Bradley Schmeling and Darin Easler (defrocked Lutheran clergy who were the first to be reinstated)
2011 Scott Anderson (first gay Presbyterian to be ordained following policy change)
2011 Amy DeLong (out, partnered Methodist minister on trial)
2012 R. Guy Erwin (gay professor elected as ELCA bishop)